Radiation Therapy: Resources to Help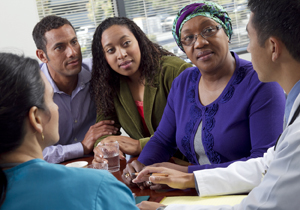 From the moment you found out you had cancer, you most likely have had questions about treatment. You are not facing cancer treatment alone. Loved ones, support groups, and counseling can help you. Keep a list of any questions you have for your radiation therapy team. Ask these questions during your visits, or call if you need to. And use the resources below for information.
Radiation therapy uses high-energy X-rays to treat your cancer.
Cancer resources
To learn more about cancer and radiation and to find support groups contact the resources below:
American Cancer Society
800-227-2345
www.cancer.org

National Cancer Institute
800-422-6237
www.cancer.gov

American Society for Radiation Oncology 
800-962-7876
www.rtanswers.org

University of Pennsylvania ONCOLINK 
www.oncolink.org
---
---
Contact Us for a Free
Consultation & Care Assessment
Contact Us for a Free Consultation
and Care Assessment
Greenwich, CT:
203-532-0500
Westchester, NY:
914-517-0520
235 Glenville Road 3rd Floor,
Greenwich, Connecticut 06831