After Shoulder Replacement Surgery: Your Home Recovery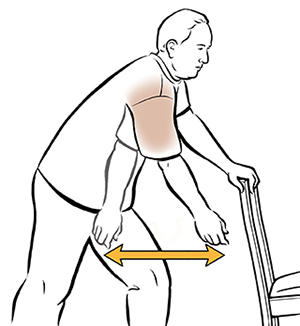 At home, your goal is to return safely and comfortably to your normal activities. To get the most from your new shoulder, you need to take an active role in your recovery. Be sure to continue your exercise program and see your surgeon for follow-up exams.
The first months
Remember that it takes 3 to 6 months for your shoulder to heal. Recovery from a fracture may take longer. You will have some pain and swelling at first. Your healthcare provider may prescribe medicine and suggest you use an ice bag. You may also continue to use your sling. Your exercise program will include more active use of your arm and shoulder. It's important to do your exercises exactly as directed to regain maximum strength, flexibility, and movement.
Checking your progress
Your sutures or staples will usually be removed 10 to 14 days after surgery. Your surgeon will continue to check the range of motion and strength in your shoulder for the first year after surgery. He or she may see you once a year after that. Be sure to keep all your appointments and ask any questions you have. Your healthcare provider may also recommend that you take antibiotics before you have dental work or surgery. You may be given a card that says you have a prosthesis. Use this card at security gates with metal detectors.
Call your healthcare provider if you have:
Increased pain, numbness, or tingling

Drainage, redness, or swelling around the incision

A fever of 100.4°F (38°C) or higher, or as directed by your healthcare provider
---
---
Contact Us for a Free
Consultation & Care Assessment
Contact Us for a Free Consultation
and Care Assessment
Greenwich, CT:
203-532-0500
Westchester, NY:
914-517-0520
235 Glenville Road 3rd Floor,
Greenwich, Connecticut 06831