After Knee Replacement: The First Month
You'll apply the same movement skills you learned in the hospital or rehab center to your exercise program at home. You may also continue meeting with your physical therapist. Following your exercise program brings big rewards. With your knee in shape, you'll walk more easily and return to an active life sooner.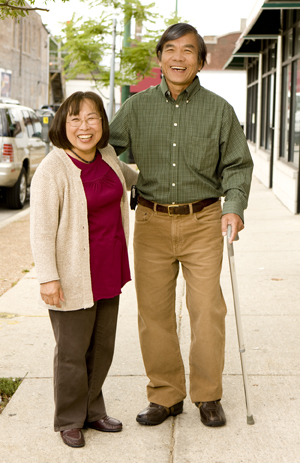 Maintaining your exercise program
Exercising is the only way to regain your strength and range of motion. With continued exercise, you may gain even more strength and range of motion than you had before surgery. That's because before surgery, pain and stiffness may have limited your movement. So make exercise part of your daily routine. Continue meeting with your physical therapist as directed. He or she may add riding a stationary bike, swimming, or other new exercises to your program.
Walking in stride
Walking helps build a more normal, comfortable stride. It also keeps you in shape and helps prevent blood clots. Begin by taking three or four short walks every day. Gradually increase how far, how long, and how many times a day you walk. After your walk, lie down, elevate your knee, and ice it to reduce swelling. Your doctor or physical therapist will instruct you when and where to use your walker, crutches, or cane. He or she will also let you know when you can stop using them.
---
---
Contact Us for a Free
Consultation & Care Assessment
Contact Us for a Free Consultation
and Care Assessment
Greenwich, CT:
203-532-0500
Westchester, NY:
914-517-0520
235 Glenville Road 3rd Floor,
Greenwich, Connecticut 06831