New Census Bureau Report Underscores the Need for Senior Care
The Baby Boom is now creating a Senior Boom. According to a new report from the U.S. Census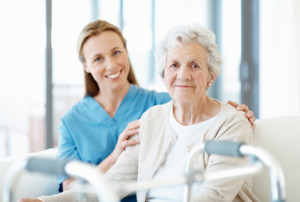 Bureau, the number of individuals age 65 and older is projected to reach nearly 84 million by 2050, almost double the size from 2012. Another factor contributing to the boom is the fact that people are living longer: Currently, the average American is living to be almost 79 years old, up from about 71 years in 1970.
This raises the question of how we, as a country, plan on taking care of our aging citizenry. According to the Congressional Budget Office, about one-third of people age 65 or older report functional limitations of one kind or another—limitations that require assistance in dressing, bathing, preparing meals, managing medications, etc. Among people age 85 or older, about two-thirds report functional limitations. And experts project that two-thirds of all seniors will need assistance to deal with a loss in functioning at some point during their remaining years of life.
"Changes in the age structure of the U.S. population will have implications for health care services and providers, national and local policymakers, and businesses seeking to anticipate the influence that this population may have on their services, family structure and the American landscape," says Jennifer Ortman, chief of the Census Bureau's Population Projections Branch.
The aging population presents numerous challenges and great opportunities for agencies and companies that provide senior care. Home care and home health care services, community care facilities for the older population, and continuing care retirement communities are all expanding. All showed an increase of 20 percent or more in their number of employees between 2007 and 2011. Additionally, age-restricted communities are becoming more and more popular. One such community, The Villages in Sumter County, Florida, was the nation's fastest growing metro area from 2012 to 2013.
Fortunately, the Senior Boom wasn't an unforeseen phenomenon. We've known for nearly 60 years that Baby Boomers would eventually grow old and need greater care. The associated industries caring for these individuals have, so far, been able to keep pace with demand, although occupancy at senior living communities is on the rise, reaching 89.9% in the second quarter of 2014. Fortunately, construction of new communities is also on the rise. It's safe to say that senior care will be a growing industry for many years to come
---
---
Contact Us for a Free
Consultation & Care Assessment
Contact Us for a Free Consultation
and Care Assessment
Greenwich, CT:
203-532-0500
Westchester, NY:
914-517-0520
235 Glenville Road 3rd Floor,
Greenwich, Connecticut 06831