This Labor Day, We Honor Working Family Caregivers
If you are one of the 65.7 million Americans who is currently caring for an elderly parent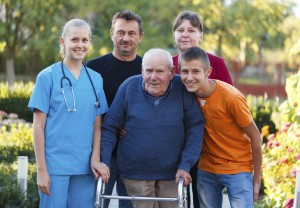 or other loved one, chances are you often feel torn between work duties and the tasks of your caregiver role—transportation, personal care, healthcare appointments, and so many other responsibilities. Many working caregivers report that they…
Miss opportunities for advancement and promotion
Cut back to part-time work, or resign entirely
Pass up travel or training
Use all vacation, personal and/or sick days to provide care
Take unpaid leave
Feel stressed out almost all the time
The financial cost is large. According to a definitive MetLife Mature Market Institute study, "Caregiving costs individuals upwards of $659,000 over their lifetimes in lost wages, lost social security and pension contributions." Cutting back on hours may also leave caregivers without health insurance.
Adding to the demands on your limited time, you may also be a member of the "Sandwich Generation"—one of the millions of Americans simultaneously caring for elderly relatives and children under 18. And you might even have a boomerang child or two in your home—young adults who are living with the folks to save money.
You Are Not Alone
The good news is, policymakers are beginning to pay attention to this growing issue, and to recognize the vital role family caregivers play in the nation's eldercare system. The U.S. government passed the Family and Medical Leave Act of 1993, which, in brief, requires companies with 50 or more employees to provide eligible employees with up to 12 weeks of unpaid leave each year in case of a health problem—including that of a spouse or parent. In 2000, the National Family Caregiver Support Program (NFCSP) was established, which includes programs to promote caregiver-friendly employment practices. And the Equal Employment Opportunity Commission (EEOC) has released guidelines and best practices that address unlawful discrimination against employees who provide care for a family member—including elderly parents. In addition, many local governments have also passed anti-discrimination laws to protect employees with family responsibilities.
Employers themselves are also taking notice. Times are changing. Gone are the days when the husband could spend as many hours as needed at the office while his stay-at-home wife cared for his own elderly parents. Women are now just as likely to have jobs. Families are smaller, so the caregiving workload is spread among fewer family members. Delayed childbearing has resulted in more Sandwich Generation employees. And above all, with the aging of the baby boomers, the number of elders needing care continues to skyrocket. Smart businesses know they need to prepare for caregiver needs if they aren't to be negatively impacted by…
Lowered productivity
Increased absenteeism
Workday disruptions
The cost of replacement and rehiring when caregiver employees must resign
Many companies are beginning to adapt by enacting policies and providing benefits that respond to the needs of caregivers. They know that the resulting employee loyalty, job satisfaction and increased productivity more than pay for the expense of such programs. Though only a minority of companies currently offer such programs, the number is growing.
So…if you are currently a working family caregiver, what can you do to help balance your work and caregiving responsibilities? The first step is to make a plan and do your homework. Are you taking advantage of available resources? Are you trying to do it all alone, rather than asking for help? Here are some questions to ask as you assess your situation:
Q: Have I investigated resources available through my employer?
More and more companies realize that assisting caregivers is part of a good employee retention strategy. Although some family caregivers are hesitant to discuss their situation, not wanting to bring personal problems to work, remember that your company is as eager as you are to lessen the impact of caregiving on your productivity. Talk to your supervisor or Human Resources department about your current situation. Ask if your company has an employee assistance resource and referral program that offers family caregiver information and support. Find out the company's policy on family leave, flextime, telecommuting and job sharing. If the company has an employee wellness program, take advantage of it; caregivers are at high risk of stress-related chronic illness. This is a positive step to help your company recognize your needs—and those of other employed caregivers.
Q: What support services are available in my community?
Take the time to investigate support services available for caregivers:
In-home care services range from help with personal care and the activities of daily living (dressing, bathing, using the toilet), to meal preparation and light housekeeping, all the way to skilled medical procedures provided by home health nurses and aides.
Adult day centers provide daytime care and social activities for older adults. Programs vary as to the amount and type of care available; services might include meals, transportation, health care services and rehabilitation and memory care.
Geriatric care managers (GCM) are eldercare professionals who can assess your loved one's needs, and develop and implement a personalized plan of care, taking into account the needs of your older family member and your own work issues as well. GCMs can provide ongoing follow-up monitoring if desired.
Respite care programs provide temporary relief for caregivers. This may be a professional caregiver who comes into the home, or your loved one may go to a short-term program at a hospital, assisted living community, skilled nursing facility or adult day center.
Support groups provide emotional support, information sharing and companionship for caregivers, who often feel isolated. It helps so much to share experiences with someone in the same boat!
Some support services are available at no cost; others you or your parent must pay for. But it is often worth paying out of pocket in order to keep your career on track. And if you feel guilty about "bringing in outsiders," remember that depending less on you can increase your loved one's sense of independence, freeing both of you to enjoy each other's company more and spend a relaxed time together.
Q: Am I trying to do too much?
With today's smaller families and our mobile society, sometimes only one family member is available to serve as family caregiver. But other times, it happens that one family member gradually evolves into the main caregiving role as their loved one's condition changes, without anything really being discussed. Is it time to revisit the arrangement in a family meeting? Discuss with siblings the cost and other impact of your caregiving duties. Can your brother provide respite some evenings? Can Mom visit your out-of-state sister for several weeks? Learn to delegate.
Even if you are the only family caregiver for your relative, can you expand your support team with friends, neighbors, members of your or your loved one's faith community? What about volunteers? Set priorities in other areas of your life, as well—can you temporarily give up some of your other commitments, especially those that you don't really enjoy?
Q: Am I taking care of myself?
Working family caregivers are highly susceptible to "caregiver burnout." They feel confused, fatigued, constantly worried, angry…and then, often, guilty about having those feelings! Caregivers should remember that taking care of themselves is part of caring for their loved one. As you investigate resources to help in your loved one's care, don't forget to carve out some time just for yourself…time to nurture your spirit and "recharge your batteries." This will not only make you a better family caregiver, but a better employee, as well.
The numbers are in: more and more workers will be faced with family caregiving issues as the baby boom ages. If you're already dealing with these competing demands, remember that finding the ideal balance between our personal life and work life is a key life task. Family caregiving complicates that task—but you don't have to do it alone. Taking care of yourself means you will be better able to take care of your loved one!
Learn More
To read more about the issues of working caregivers, see the Caregiving in the U.S. report from the National Alliance for Caregiving.
Copyright © AgeWise, 2014
---
---
Contact Us for a Free
Consultation & Care Assessment
Contact Us for a Free Consultation
and Care Assessment
Greenwich, CT:
203-532-0500
Westchester, NY:
914-517-0520
235 Glenville Road 3rd Floor,
Greenwich, Connecticut 06831