Home For The Holidays (Part I) – A Guide For Assessing Your Senior Parents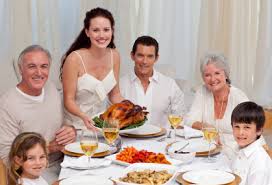 As a certified geriatric care manager I often tell families with senior parents that the holidays are a good time to take stock of a parent's health.   In between stuffing yourself with turkey, you might want to let your eyeballs roam a bit and open your ears and other senses to do a little assessment of how mom and dad are doing and if you think they are safe living in thier current environment with the level of caregiving support that they currently have.
Making sure a senior parent gets a little help now is far preferable than waiting for a crisis.
Here are some things to look for.  Any one of the following behaviors may warrant a bit more due diligence and action on your part with your parent, neighbors and relatives who live close by, caregivers, physicians, a geriatric care manager and other members of your parents' caregiving team.
Do you notice any of the following:
• Are there changes in eating habits, resulting in losing weight, having no appetite, missing meals, or loss of taste for some of their favorite foods?
• Do they have problems with feeding themselves, holding a fork or spoon properly, or cutting their food?
• Are they neglecting personal hygiene, including wearing dirty clothes and having body odor, bad breath, neglected nails and teeth, or sores on the skin?
• Do they feel more fragile, weak or unsteady when you give them a hug?
• Do you see neglect in how they normally keep their home, with a noticeable change in cleanliness and sanitation?
• Do they exhibit inappropriate behavior, such as being unusually loud, quiet, paranoid, or agitated or forgetful of short term or long term events?
• Are they sleeping a lot more during the day and do they go to bed and wake up at unusual times for them?
• Do they have to go to the bathroom more frequently than normal in the middle of the night?
• Do they have problems getting up from a chair, walking with a steady gait or climbing stairs?
• Are there significant changes in relationship patterns with friends and family?
• Do they have physical problems, such as burns or injury marks, which may result from general weakness, forgetfulness, or misuse of alcohol or prescribed medications?
• Have they Decreased or stopped participating in activities that were once important to them, such as bridge or a book club, dining with friends, or attending religious services?
• Do they exhibited forgetfulness in their daily routine, resulting in unopened mail, piling of newspapers, not filling their prescriptions, missing taking medication or missing appointments?
• Do they seem withdrawn?
• Are they mishandling finances, such as not paying bills, losing money, paying bills twice or more, or hiding money?
• Have they made unusual purchases, such as buying more than one subscription to the same magazine, entering an unusually large number of contests, or increasing purchases from television advertisements?
There can be many reasons for any of the different changes that you notice with your parents during the holidays.  Some may be easy to correct and some may warrant a good bit of further exploration, consultation with doctors, geriatric care managers and other health care professional, and changes to reflect the new reality of your parent's condition.  The key is not to ignore these items but take action to avoid a sudden and more serious event in the future.
---
---
Contact Us for a Free
Consultation & Care Assessment
Contact Us for a Free Consultation
and Care Assessment
Greenwich, CT:
203-532-0500
Westchester, NY:
914-517-0520
235 Glenville Road 3rd Floor,
Greenwich, Connecticut 06831