Favorite Senior Balancing Exercises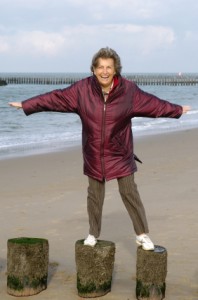 Today's focus is balance exercises for seniors. Always consult with your physician before doing any exercise.
Put one foot on the bottom step of a stair or a foot stool and stand while maintaining balance.
To add a challenge in the above exercise raise arms overhead and back down 10 times while maintaining balance.
In the same postion as the first exercise alternate tapping foot on the step or foot stool between 10 to 20 times.
For all of the above exercises always make sure there is a chair behind you or a railing or counter to hold on to.
To find out more about our services visit us at sterlingcare.com.
---
---
Contact Us for a Free
Consultation & Care Assessment
Contact Us for a Free Consultation
and Care Assessment
Greenwich, CT:
203-532-0500
Westchester, NY:
914-517-0520
235 Glenville Road 3rd Floor,
Greenwich, Connecticut 06831