Are Emergency Rooms Senior-Friendly?
A report from the American College of Emergency Physicians calls for increased training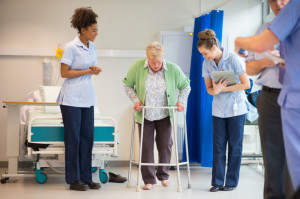 in geriatrics for emergency room personnel, as well as ER features that support the needs of older patients. Researchers examined data from around the world and found that many senior patients experienced functional and cognitive problems after a trip to the hospital after a fall or other health event.
Said study author Dr. Leonard Gray of the University of Queensland in Brisbane, Australia, "These patients have complex profiles before they come to the ER, and even more complicated needs once they get there. Dependence on others and geriatric illnesses, such as cognitive impairment and mobility problems, affect the majority of older emergency patients across a wide range of nations with different health systems and cultural contexts. They require specialized care to avoid missed diagnoses, pressure ulcers and a range of other potential problems associated with this particular population."
With the growing senior population, more hospitals in the U.S. have established specialized ER facilities for older adults. Said Dr. Gray, "Frailty, confusion and dependence on others make these our most fragile emergency patients. Specialized training in geriatric care and even specialized layout and procedures can help us provide the best assessment and care."
The study appeared in the Annals of Emergency Medicine.
Source: AgeWise reporting on study from the American College of Emergency Physicians 
---
---
Contact Us for a Free
Consultation & Care Assessment
Contact Us for a Free Consultation
and Care Assessment
Greenwich, CT:
203-532-0500
Westchester, NY:
914-517-0520
235 Glenville Road 3rd Floor,
Greenwich, Connecticut 06831