---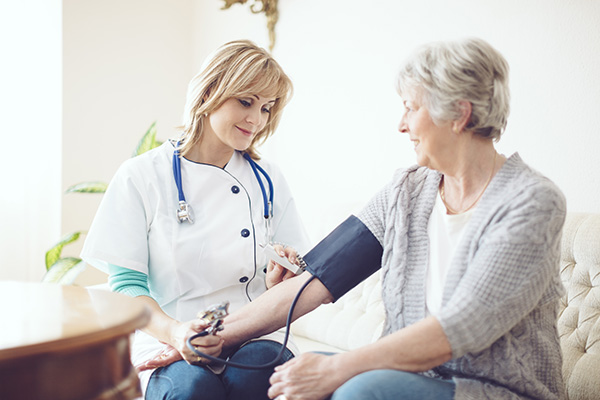 Cardiac Care
Heart health is vital, and Sterling Home Health Services' visiting nurses, therapists and home health aides are highly trained at in-home cardiac care for those suffering from heart disease or recent heart surgery.
The goal of our program is to facilitate a safe transition for patients from a healthcare setting back to their home through our unique holistic in-home care approach, while working closely with the patient and their physicians to personalize a plan of care, adjusting it throughout the recovery process.
PROGRAM GOALS
Jointly manage patient's cardiac care
Reduce emergency room visits or unplanned medical visits
Provide extensive education to patients and families on condition management
PROGRAM OBJECTIVES
Coordination and communication between hospital, physician and home health
Standardized patient education to assist patient in recognizing signs and symptoms of condition
Individualized treatment care plans to restore strength, physical endurance and mobility to improve quality of life
In-home nursing evaluations and medication management
Follow-up patient check-in calls and 24/7 on call nursing support
Nutritional counseling and guidance in lifestyle adjustments, including smoking cessation and emotional well-being
---
Chronic Obstructive Pulmonary Disease Care (COPD)
COPD – a group of lung diseases that block airflow and make it difficult to breathe, including emphysema and chronic bronchitis – is preventable and treatable. Sterling Care's COPD program uses our unique holistic in-home care approach to proactively manage your condition at home and reduce unwanted re-hospitalizations.
PROGRAM GOALS
Manage respiratory symptoms (dyspnea, fatigue), educate on breathing techniques
Reduce the need for emergency room visits
Increase the ability to perform activities of daily living
Assessment and instruction to patient and caregivers of symptom management, diagnosis related topics, diet and lifestyle changes
Educate patient and family on lung diseases, medication and oxygen usage and breathing techniques
PROGRAM OBJECTIVES
Coordinated effort and establishment of working communication between hospital, physician and skilled nursing facility
Consistent education for patients and families using shared materials and key learning components including disease and medication management, controlling environmental triggers, preventing respiratory infection through healthy lifestyle choices
Knowledgeable staff that provides both patients and family members with individualized care and support
Post discharge follow up
---

Hip and Knee Joint Replacement Program
Patients recovering from total hip and knee joint replacement are able to successfully rehabilitate at home with the support of physical therapists, visiting nurses, and home health care aides.
Sterling Care has a specialized program tailored to provide a successful outcome, revolving around consistency of care delivery, achieving better overall health and lowering readmission rates.
Our program is customized to each patient's needs and is designed to allow the patient to return to the community safely and comfortably while retaining their independence.
A referral for this program can be made at the same time the surgery is scheduled at the surgeon's office or at the time of discharge from either a hospital or skilled nursing facility.
PROGRAM GOALS
Educate family and patient on home safety and home safety measures
Build range of motion, strength and endurance
Optimize patient capabilities toward independent transfers and ambulation
Maximize patient and family confidence
PROGRAM OBJECTIVES
Nurses and therapist will initiate services within 24 hours after discharge from in-patient facility
Therapy services will assess your safety and durable medical equipment needs in the home setting
Individualized home exercise programs, including gait training, stair management, post-operative cautions and positioning
Education on joint protection, maintenance of weight bearing status at all times
Provide hands on instruction for activities of daily living and home management
Skilled nursing will assess your post-op clinical status, including pain management, edema control, incision healing and monitoring signs/symptoms of infection
Certified Home Health Aides are available based on your individual assessment to reinforce the home exercise program, assist with ambulation, and activities of daily living
Social Worker available to address understanding and coping with altered functional status and to assist in identifying community resources
Nutritionist can assist with a therapeutic diet as necessary
---
Diabetes Care
Diabetes can be a debilitating disease if left untreated or is poorly treated. It places individuals at risk for heart disease, stroke, high blood pressure, kidney disease, neuropathy, wounds, and blindness.
Sterling Care's Diabetes Care Program provides skilled care by registered nurses and a multidisciplinary team under the orders of the patient's physician to provide evidence-based treatment to promote positive health outcomes as well as an improved quality of life based on our holistic care approach.
PROGRAM GOALS
Reduce the number of hospital and ER visits
Reduce the complications and risk factors associated with diabetes
Educate patient and family on condition-specific symptoms and complications
Collaborate with the patient's physician in order to help prevent complications associated with diabetes
PROGRAM OBJECTIVES
Collaboration with the patient's physician and alert them to changes in condition
Customized client education materials
Client education and self-monitoring, including medication management
Nutritional assessment
Foot assessment with follow-up education
Monitor glucose and insulin levels
Plan and supervise exercise routines
---

Wound Care
Many patients are discharged from the hospital with slow-healing surgical wounds. Others suffering from chronic conditions, like diabetes, often have wounds or open sores that don't heal easily. To prevent infections and other serious complications once a patient has left the hospital, getting proper wound care at home is critical. Sterling Care provides the highest level of wound care for our patients. Our skilled nurses will work closely with you and your physician to establish a treatment plan and evaluate progress every step of the way.
Although treatments vary by patient, Sterling Care's nurses can provide the following wound-care services:
Basic Wound Care: cleansing of wounds and changing of wound dressings
Self-Care Training: educating patients and caregivers on how to change wound dressings, monitor healing, manage pain and recognize potential complications
Innovative Treatments: we can – if necessary – provide wound therapies such as the Vacuum Assisted Closure (VAC). This therapy employs suction technology to stimulate tissue growth and heal wounds faster. Our nurses also may take digital photos of wounds and email them to your physician for consultation and recommendations
Contact Us for a Free
Consultation & Care Assessment
Contact Us for a Free Consultation
and Care Assessment
Greenwich, CT:
203-532-0500
Westchester, NY:
914-517-0520
235 Glenville Road 3rd Floor,
Greenwich, Connecticut 06831